My father was working with numerical devices (for pay accounting stuff) and
when I was a kid, I had the chance to work on those dinosaurs' computers.
At the same time of this first IBM Personal Computer, I started on its cousin called NEC APC.
This was a great computer which such big features: hi-def resolution (1024x1024), ANSI escape sequences, dual 8inches floppies (fast led flipping during copies and such great noise), multitone sound music on a mere buzzer, CPM operating system then MS-DOS + GW-Basic, etc.
Then I worked on the IBM PC (
model 5150
then the
portable one model 5155
and finally the
IBM AT3 with IBM 5154 EGA display
) In 1981, the Personal Computer got this stuff:
4.77 MHz Intel 8088 microprocessor

one or two disk drives

16kb memory → 256k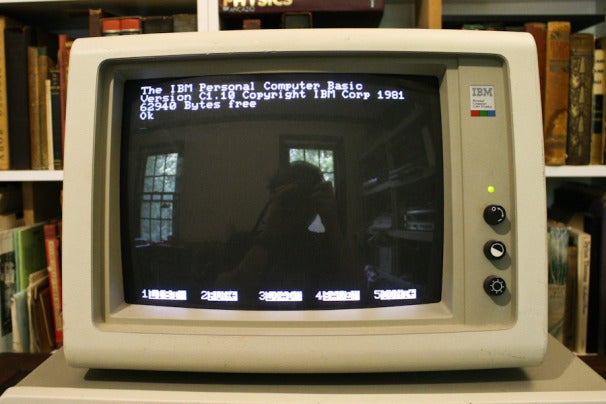 I do remember playing those old games like Space Commanders / Cosmic Crusader / Digger / Alley Cat and also beginning programing with the famous IBM BASICA in ROM then GW-Basic / QBASIC and at last the great Borland TURBO PASCAL generating small executables of a few bytes (not bloatwares like nowadays) All those softwares were running under the IBM PC-DOS and not MS-DOS nor Dr-DOS that came later on. Afterward came a multitasking DOS called DESQview and IBM OS/2.

What an age, lost within our memories ... therefore I did write this article as a personal note to avoid to forget and also to celebrate this great anniversary.


A Personal Computer with its original IBM books
Bill Gates with DOS Multiplan (against VisiCalc)